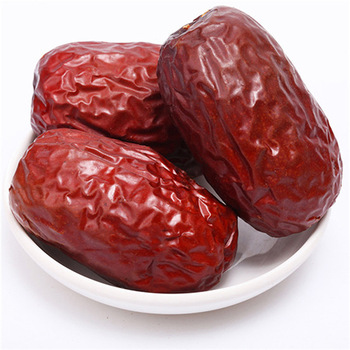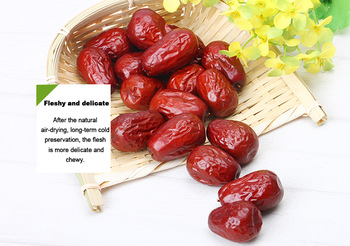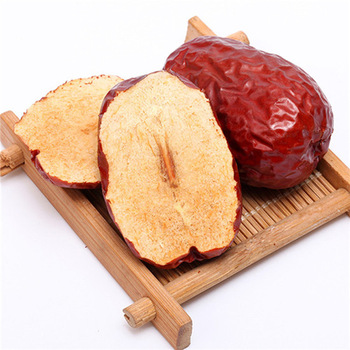 2019 New Crop High Quality Red Dates
Chinese red dates (also called red jujube) are not only a kind of popular food, but also a commonly used traditional Chinese medicine.
Modern pharmacological research found that contain more red dates in protein, amino acids, sugars, organic acids, vitamin A, vitamin B2., vitamin C, P, and trace elements of calcium, phosphorus, potassium, iron, magnesium, aluminum and a large number of cyclic adenosine monophosphate. It's warm and sweet.
Uses: Chinese red date can be used as fruit, snack, Chinese traditional medicine, also can be used to make soup, breads, cake, candy, compote and jam.
Sayings: Eating three red date everyday can make you always stay young; Chinese red date is regarded as the Kind of Fruit.
Tel: +86-29-81029551  
Introduction
Style:

Dried Type: red date
Shape:

Oval Drying Process: AD
Cultivation Type:

Common, Open Air Packaging: Bulk, Vacuum Pack
Max. Moisture (%):

5% Max Certification: HACCP
Weight (kg): 1 KG

Shelf Life: 24 Months
Place of Origin:

Shaanxi, China (Mainland) Brand Name: Chins licKING
Model Number:

CHF-HZ001 Product name: Sweet Red Jujube Xinjiang Hetian Red Dates
Color:

Red Other name: red jujube
Packing:

10kg/carton Origin:Shaanxi Province
Storage: <20°C ,cool place,shielded from light

Shelf life: 2year
Name:

Healthy Snacks Related products: AD Furit
Ingredient:

100% Fruit