The Most Dangerous Mountain-Mount Huashan in China
Author: qinfoods Date: 2019/08/20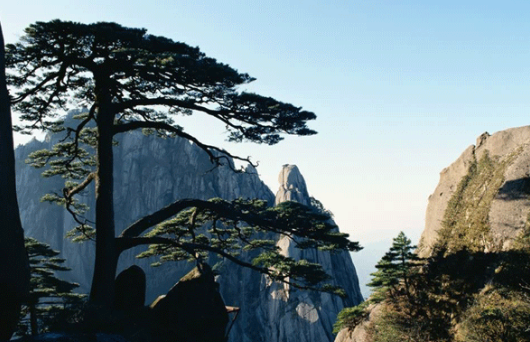 Mount Huashan , called as "western great mountain", is one of the famous Five Great Mountains in China. Mt. Huashan is located in Weinan City and Huayin City of Shaanxi Province, 1 20 kilometers east of Xian, south of the Qinling Mountains, north of Yellow River and Wei River, guarding the portal from the Great Northwest to Central Plains. Mt. Huashan is in the first batch of national key scenic spots and one of four top ten tourist destinations; in China. As China's top ten famous mountains, it was rated as the AAAAA National Scenic Spot by the National Tourism Administration in 2010.
Mt. Huashan Facts
Situated in Huayin County, Mt. Huashan is some 120 kilometers (about 75 miles) east of Xian City in Shaanxi Province. This mountain is celebrated for its majestic breath-taking crags, steep paths, beautiful scenery and it is said to be the most precipitous mountain in the world. Mt. Huashan is huge complete granite. Its history can be traced back 120 million years before.
Mt. Huashan is known as "The Number One Precipitous Mountain under Heaven". The mountain is one of China Five Sacred Taoist Mountains, and has a long history of religious significance. The mountain has five main peaks, of which the tallest is the South Peak at 2160 m. This peak also had a well-deserved reputation as having the World most dangerous hiking trail.
It is a common saying that "Mt. Huashan has only one path since ancient times". Only one narrow and zigzag path, 15 kilometers long and stretching from south to north, is available in Mt. Huashan.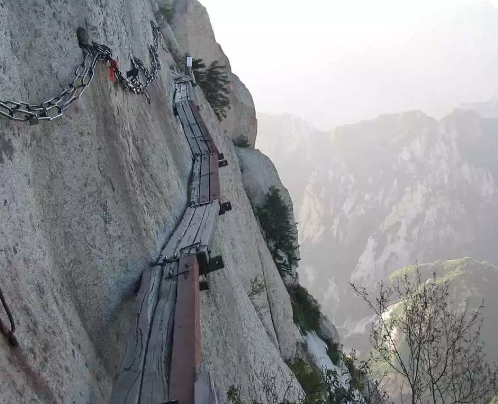 Most Dangerous Hiking Trails
The Sky Plank Road: Out of the South Gate, there is the most dangerous hiking trail "sky plank." The plank has three sessions. Upper section: South Gate to the west of Chaoyuan Cave, 20 m long, 2 feet wide; Mid-section: the way down between the cliffs, like hanging ladder; Lower-Section: go west from mid-section, there is holes on the cliff with piles.
Canglong Mountain: The terrace on the mountain is only 2 feet wide, with cliffs at each side. The top and bottom elevation difference is about 500 meters, with slope of more than 45 degrees.
Mt. Huashan Valley Hiking Trail:It is the ancient Hushan Road, including all the attractions of Mt. Huashan. The most fun of climing Mount is overcoming hardships and dangers while appreciating the scenery along the way. This train is still the classic mountaineering route and best choice for climbing Mt. Huashan.
• Mt. Huashan Three Risks
Mt. Huashan Three Risks is located at the passageway from Yuquan Temple to the North Peak, which are Thousand-Foot Precipice, Hundred-Foot Crevice and Laojun Plough Ditch. Qiangchichuang has 370 steps, hover ingon the cliffs. Baichi Valley has cliffs and one big rock in mingle. And then, passing by the Fairy Bridge, Fuwei Cliff and Black Tiger Ridge, you will see the third risk, Laojunli Ditch, which is very deep, with 570 steps.
There are over 210 attractions on Mt. Huashan, in addition of the above spots, such as Xiaqi Pavilion, Huayue Plam, Huixin Rock, Yuquan Temple, Qingkepin, Jinshuo Pass, etc.
Tips for Climbing Mt. Huashan
1. It takes about 24 hrs to hike all the five peaks and about 5 to 6 hrs by cable car. There are hotels on the East Peak.
2. Climbing Route
Traditional route: First day, enter from Huashan Gate at 9 o'clock, passing Qianchichuang, Baichi Valley.
The second day, climb to the Chaoyang Platform on East Peak to watch the sunrise. And then from East Peak to Yaozifanshen, Xiaqi Pavilion, and to the other side of East Peak. Hiking to South Peak, and passing South Gate to see the Sky Plank. Back from the Sky plank and walk down South Peak to West Peak. And then, from West Peak to Middle Peak, climb down. On the way, you will see many spots. At about 4 o'clock in the afternoon, you will back to Huashan Gate.
Simple Route: taking cable car to North Peak, and hiking to East Peak, then South Peak, West Peak and Middle Peak, climbing down the peak.
Best Time to Visit Mt. Huashan
Best Time to Visit: April to October, which is also the peak season. The 15th of the third lunar month is the Chaoshan Festival. There will be a grand festival and celebrations.